I love to preserve YOUR flowers
Flowers, arrangements or bouquets are often a representation of a special moment or time. Weddings are one of our most exciting moments with very thought out, beautiful flowers involved. I love to preserve or press wedding bouquets and make them into a memorable piece of art (or something useful) for your home.
If you would like an alternative way to keep your wedding bouquet preserved and on display I can also create resin wares. We can make coasters, clocks and trays for your home or even jewelry using your flowers.
Although weddings are a common floral event, we can preserve flowers from any event that you would like to commemorate the memory of. Baby showers, anniversaries or even losing a loved one, flowers can help us cherish those memories forever.
Click below to get started, you can also scroll down a little further to see some photos and get some inspiration on how you might like to have your flowers preserved.
Click Here For More Information and to Secure Your Spot
Flowers Already Dried?
If you saved flowers from your wedding (or special event) and have been waiting for the perfect way to keep them forever in place… look no further! I have brides bring me flowers that were dried 3-5 and even 20 years ago to work with. I so enjoy working with the rich colors and textures of dried flower and bringing them a new life and purpose. Click below for more information and pictures!
Also makes a great wedding gift for a loved one…..
Bouquet Preservation Gift Certificate
What a better surprise for a bride then a gift to preserve her beautiful wedding flowers after the big day. Gift Certificate can be applied to any of the wedding items. Bride can simply reach out to arrange for shipping or pick up and we can discuss how she would like to preserve her flowers. With limitless options, we will find something to find every style.
please feel free to reach out with any additional questions. A presentable gift certificate will be emailed to you for printing after purchasing.
Purchasing this digital gift card creates a unique code. The gift card recipient can enter this code at checkout to subtract the gift card value from their order total.
This gift card never expires.
WHAT CAN WE DO WITH YOUR FLOWERS?
I am a multifaceted artist and can create almost anything you can dream up using your flowers.
FRAMING
When it comes to framing there is huge variety of options available. One that has become popular with bouquet preservation is the shadowbox.
3D Shadowbox: The flowers are 3D preserved and arranged in the shadowbox. Your bouquet is almost as beautiful and full of life as the day of your wedding. These frames come in a variety of sizes and even styles. Most popular size is the 10x10 holds a medium sized bouquet. You can include mementos from your special day.
Some Pressed Flower Designs available:
Floating Frame: This design will have the finished bouquet displayed between two pieces of glass. This is a great way to add a touch of modern to the design. Frames come in a variety of sizes and color choices. We can include ribbon, invites or other flat mementos in this style.
Modern Minimalist- This is a less traditional design and a great way to show off all of the individual element of your bouquet- This example is created with a floating frame but can be displayed in a traditional way as well
Traditional Framing: This design will be created on a heavy weighted paper (any color can be used) then framed. Framing can be traditional, vintage style or a modern style. Different mementos can be included from your event; wedding invites, ribbon, charms or other given items. I will design each piece to suit your style and request.
Wedding Herbarium: A display of individual botanicals in your bouquet- scientifically displayed with the scientific and common names written by each botanical. Lots of variation and styling available with the framing and paper choices.
I started my work in framing and paper but I have also ventured out into using resin as a medium. This really does allow me to make anything- from spoons to cake trays, clocks, coasters... and more. These are great items to add on to your framed art piece or you can just select to have some resinwares made from your flowers. These are also great gifts for anyone involved in your special day. I listed a few favorites below. If you have interest in something you do not see, I am glad to try to seek out molds to create what you would like!
Coasters: This has been the most popular item and add-on for wedding bouquets. These are very durable and will last forever. Measures 4" in diameter and can include flowers and ribbon, if desired. These are also great for already dried flowers. We can create sets for 4 and more!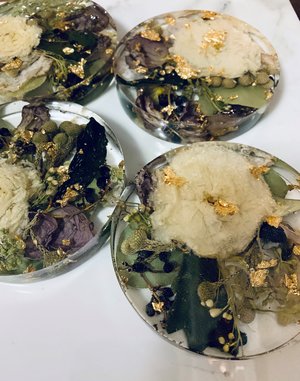 Guitar Picks: This has become a very popular request, Perfect item to add on for your new husband or any musical lovers that were a part of your big day. Pick measures about 1"x1" so we get to use the smaller treasures from your bouquet,

Cake trays: Clear round measures about 8"x8" and have clear dome feet. This is another favorite, great to use everyday and display on your table or take out during special occasions for treats, cakes and cupcakes. This larger size will allow me to display all of the flowers in your bouquet.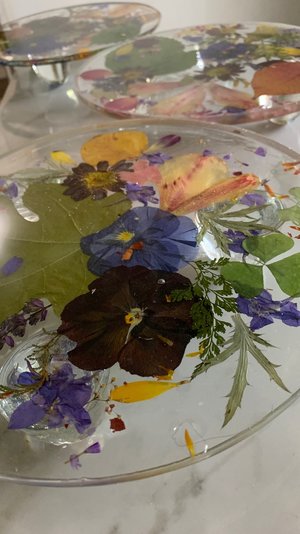 Block Letters: These letters are free standing, measure about 7.5" tall and 1-1.25". We 3D preserve your flowers and use them to create these letters to represent your new married name or spell out LOVE options are unlimited!
Flower Dome-Paperweight: We have paper weight molds in pyramid and cube shapes as well, domes have been the most requested. These will include 3d preserved flowers. I love these little globes of flower beauty! Can typically fit a few flowers and filler.
Put some of the smaller beauties from your bouquet into a pair of sweet tear drop earrings. Available in silver with sterling plated posts, gold with 10k plated posts and bronze with jewelry grade posts. This is so great for yourself and as a gift for loved ones involved in the event or perhaps that weren't able to attend. Often there are a lot of flowers in the bouquets and this is an easy add on to a larger bouquet art piece.
WEDDING DECOR
Although this page is dedicated to bouquet preservation, want to take a quick side step regarding wedding decor! Create pieces using your flowers and/or colors in food safe resin pieces for your big day. These pieces can add more enchantment to your decor through flower table numbers, cake plates or wedding favors such as spoons and coasters. We have even created a guest book that doubled as a press so guests could pick a flower and write a message next to it. Bring your wildest idea to me and we will see what we can make!
Click below to find additional information about pricing and pay deposits.
How Do I Get the Flowers to You?
If you are local to Dallas, TX area, I am happy to make arrangements to get flowers from your or a family member after the event. If not, no worries! You can easily mail them to me. Best to mail your flowers as soon as possible, right after the event. Package tight where there is not a lot of room for the flowers to move around but also the flowers are free from being pushed up against anything. I can advise you more specifically based on your bouquet style or flowers that you have. I have had flowers sent to me and received within the week and still perfectly ready for pressing. I have also had flowers given to me 2 weeks after the event and even already dried! So never fear, we can get it done! Just reach out with your name, contact and details and I will be in contact shortly.
Thank you for your inquiries! I look forward to helping preserve your special memory.